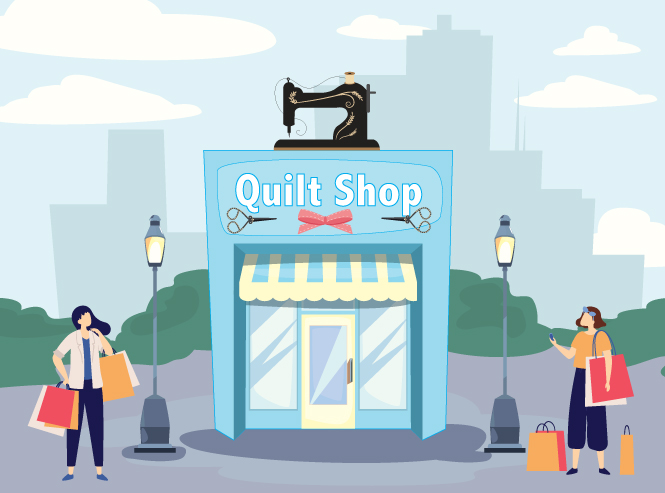 The Case for Quilt Shops: Why You Should Still Shop Locally
By Mindy Lennon, Founder of Quilting Mayhem
If you are lucky enough to live near a locally-owned quilting or crafting store (like Quilting Mayhem in Snohomish, Washington), chances are, it has survived this long because it's serving the needs of local creatives like yourself.
Here are some of the many reasons you should shop local next time you run out of thread, fabric, notions, or project ideas:
1. Knowledgeable Staff Help You Find What You Need
Quilting is a very specific form of art and creation and there's always more to know. So why not shop where you might learn something from the staff? At Quilting Mayhem we intentionally employ a variety of staff with a vast wealth of knowledge. Each staff member brings their own individual passion for sewing and they all have a common goal: to share their love for what they create and a desire to help our customers get the most enjoyment they can out of the creative process. We'll help guide you to the right products for your projects.
2. Carefully Curated Products
Local stores don't have time to sell flimsy rotary cutters or cheap fabric. If you want questionable products, you can go to a big-box store or take your chances online. Local stores see customers face to face. We're accountable. We know you and we know you don't want to go through the hassle of failed products and returned merchandise. Our employees road test a lot of products and have first hand knowledge of the ins and outs of what we sell.
3. You Can "Pet" and Road Test our Fabric
Sewing is a tactile hobby filled with people who want to "pet" fabric. Seeing fabric in person is also a great way to ensure that it's the color you actually want and that the print is to the scale you need for your project. Quilters put love and care into what we create and we want it to be perfect for the person or occasion we are making it for.
When it comes to your quilts, we don't think buying, sight unseen, from large online retailers is worth risking your time or your money if their fabric is only going to feel rough, fall apart, or not match your project.
4. Ongoing Emotional and Technical Support
Sure, you may find a better deal somewhere else but are they going to be there for you when you need to know why your seams aren't matching up right? Local stores are here when your machine won't sew right and you've given up trying to figure out why. Local stores have experienced staff waiting to help solve your problems or give you some encouragement when you doubt your choices or what you are doing. We are your support team who are excited when you share what you have created or that you finally finished a project you have been struggling with. We high five you when you finish an embroidery stitch for the first time. Personal service is what you gain when you support small local business.
5. Community Engagement
Quilt shops are a hub of information about local guilds, shows, community service projects, sew days, and special events that connect you with your community. You just don't get that from massive online retailers. We work hard to create social events to help you build your own network of sewing friends that help and encourage you along your sewing journey.
I'm not going to fool myself into thinking that I can stop everyone from shopping online or from big box stores; they have their uses. But in a time when so many local quilt shops have disappeared, we encourage you to keep shopping locally and to help your local quilting community thrive. Do it for the community. Do it for yourself and do it for your passion to create and bring beauty into the world.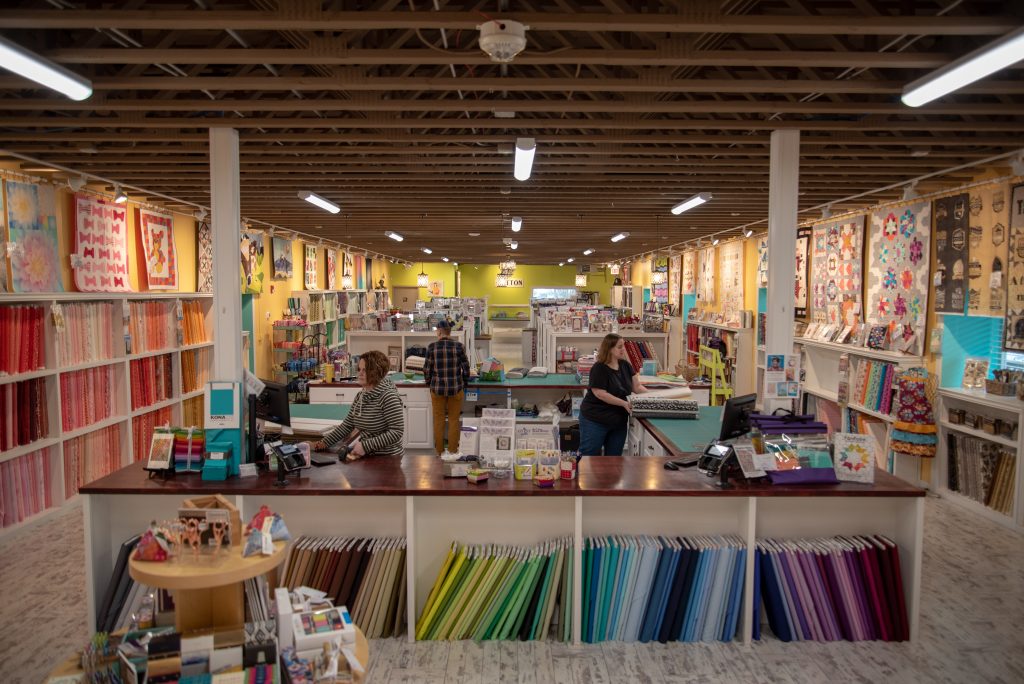 About Quilting Mayhem
Founded by lifelong sewing enthusiast Mindy Lennon, quilting Mayhem is a Snohomish Washington-based quilt store that carries everything a quilter needs to learn, create, and express. Located in beautiful historic downtown Snohomish, Quilting Mayhem carries over 4,500 bolts of premium quality fabrics in a variety of styles, selected by quilters, for quilters. Quilting mayhem sells high-quality sewing machine brands such as Bernina, Janome, HandiQuilter, and more. Classes, retreats, and demonstrations are available to shoppers in an effort to help every quilter be the best they can be.
To learn more visit https://www.quiltingmayhem.com