Temperature Quilt Along 2020
So what is a temperature quilt?
A Temperature Quilt is a quilt comprised of 365/366 blocks, depending on the year, that are related to the temperature in your area each day. You can choose to represent the year you are starting in or go back to a previous year and look up temperatures to represent a specific year you want to honor as your quilt. We will be focusing on 2020 for the Quilt-Along but this is your quilt, so please choose whatever fits you.
You will create a color chart that represents daily high and low temperatures and each day you make a block to represent the temperatures for that day. We have created a color chart for you based on the temperatures best known for the Pacific Northwest that is using three degrees for each color. Our chart gives you a range of eighteen colors. If you are using a set of fabrics that has more colors, you can change the chart to only using two degrees between each color, or if you are using fewer than eighteen colors, you can increase to four or more degrees between each color. You can also choose to make more increments lower than 32 degrees and more spaces higher than 95 degrees. I just know that we rarely see over 90 degrees in Washington and more often than not don't see under 32 degrees. Make this chart how you want to see your color variety in your quilt.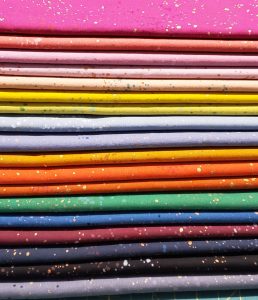 Now pick your palette. How many colors did you decide on? Do you want to go from blue to red? Do you start with purple and go to hot pink? Do you like jewel tones? Do you like brights? Do you want a full rainbow or do you want to leave out a color you really do not like? The choice is yours. As usual I chose not to follow the normal thermometer scale of blue/purple to red/hot pink. I wanted to work with the new Ruby Star basic called Speckled and it has more rusty colors and a beautiful jewel-tone purple that I just had to have in my quilt. So I grabbed my eighteen fabrics and put them in a color-tone order going from darker tones to lighter, brighter tones. To me they will tell their own story and truly be a quilt that represents me. Some customers who have already started picking palettes have said they are adding in a "snow" fabric to represent snow days. These seem so few and far between for us in the Northwest that I think it will add a level of fun. Make your color pallete one you love. Remember, if you need help, please come see us in the store. This is the part we love. Nothing makes our day more exciting then getting to play with bolts of colorful fabric and helping people put together their projects.
The other big question has been how much fabric you need. This will all depend on the type of block you are using. Simpler blocks will need less fabric and more intricate blocks will need more. I am starting off with one-yard cuts of my eighteen fabrics. I would recommend up to a yard and a half of the temperatures you think are more common for your area, especially if you are doing blocks with several seams.
You will also need to choose the style of block you want to use as your Temperature Quilt blocks. There is a variety of block designs people are using, such as hexagons, half-square triangles, flying geese, two squares together or even two rectangles pieced together. Each one will represent the high temp and low temp for the day. You can search on Pinterest to see what other people have chosen and see the look they got. The idea is that you will make one block each day to represent the temperature for the day in your town. Also, keep in mind the size of quilt you want to create. A simple Temperature Quilt uses twelve rows of thirty-one blocks. For the months with fewer than thirty-one days, you will need to add filler blocks. Keep in mind you can always play catch up with your blocks if need be but try to keep your design doable.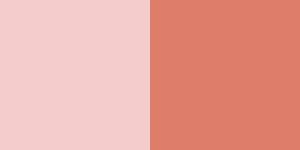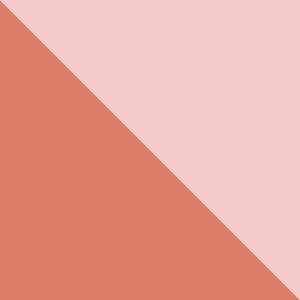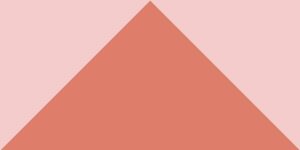 If you are the planner type, you might want to use graph paper to plan how you want your quilt to look. I have seen some very creative layouts and designs. Some have sashing added in between each month's rows. Some change the direction of the blocks as they go to give it more movement. It all depends on what you want to accomplish. You can make this as simple or complicated as you want. Graph paper can also help you decide on the size your quilt will be when completed. Remember, if you are doing blocks for 2020, we will have 366 days and 366 blocks to put into one quilt. This can be as big or small as you want to make it.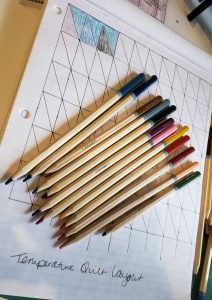 I am excited for everyone to join us in this year-long Quilt-Along. Please share pictures of your fabric choices, color charts, and blocks along the way as you go on Instagram and Facebook. We love to see what you are doing. Use hashtags #qmtemperaturequiltalong2020 #temperaturequilt #itsgettinghotinhere #toocoolnotto #embracethemayhem #mayhemmakers #letmeseeyourswatches