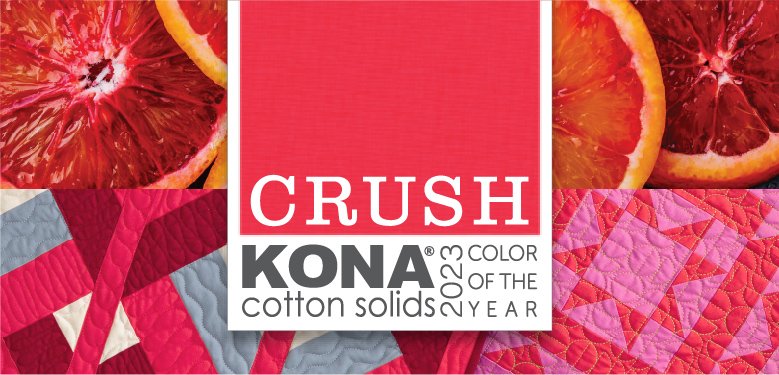 9 Projects Using the Kona Color of the Year for 2023
It's that time of year again! Robert Kaufman announced their new Kona Color of the Year for 2023, Crush. It's a bright pinky-red, almost a strawberry color, and works as either an accent for a bright pop of color or is strong enough to carry a whole quilt. Check out these nine projects, including two free quilt patterns, for inspiration.
1. Arrowhead – FREE Pattern
By Ariga Wilson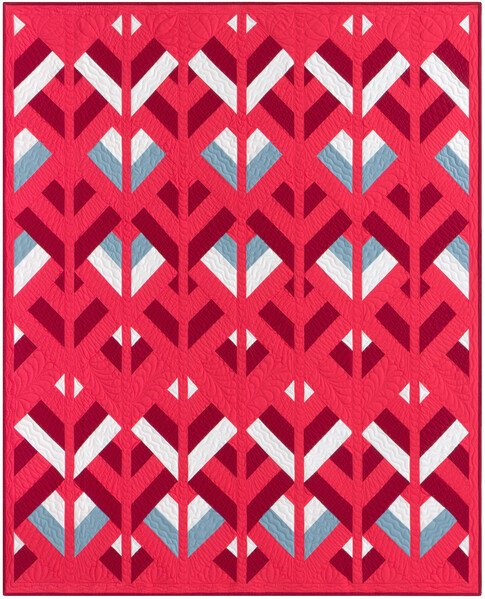 Arrowhead finishes at 55" x 65" which is a nice sized throw quilt. The color scheme keeps it monochromatic and adds a touch of gray for an unexpected neutral. You can get the FREE pattern here.
2. Intertwine – FREE Pattern
By Elise Lea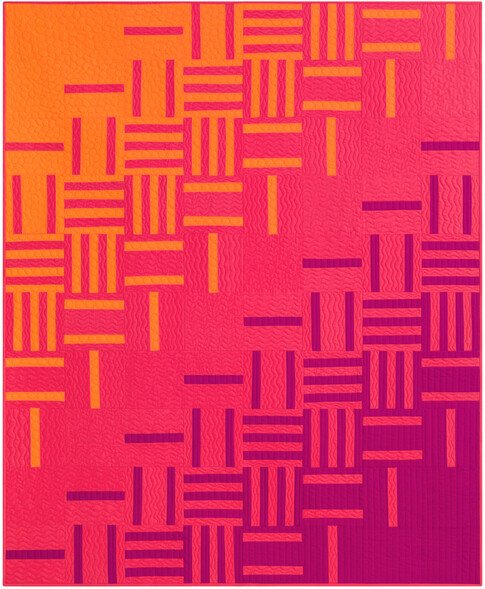 Intertwine is 56" x 70" and is a great throw sized quilt and a beginner project. The other Kona colors used are Torch (orange) and Sangria (purple) to really make the Crush pop. You can get the FREE pattern here.
3. Berry Season
By Elizabeth Hartman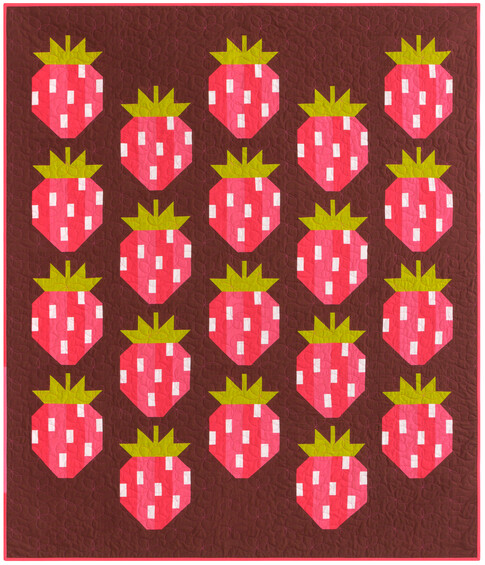 Berry Season is another stunner from Elizabeth Hartman. It finishes at 54" x 64" but you could easily adjust the size up or down by changing the number of berry blocks. Wouldn't this be the cutest Valentine's (chocoloate covered strawberries!) quilt?

4. Fall Blooming
By Satomi Quilts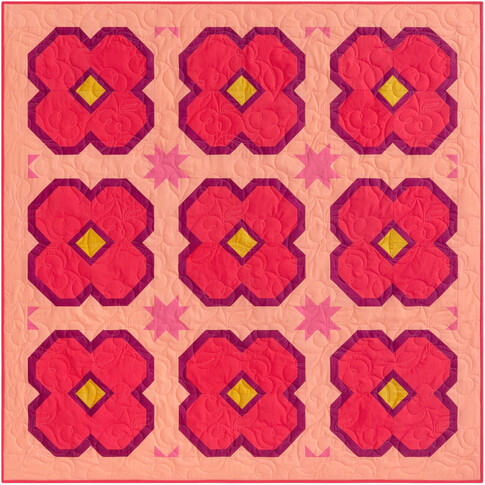 Fall Blooming is 60" x 60" by Satomi Quilts is such a happy quilt! We love an unusual color combination, and the Dreamsicle background is such a stunner but still lets the Crush colored flowers shine.
5. Hexie Pillow
By Modern Handcraft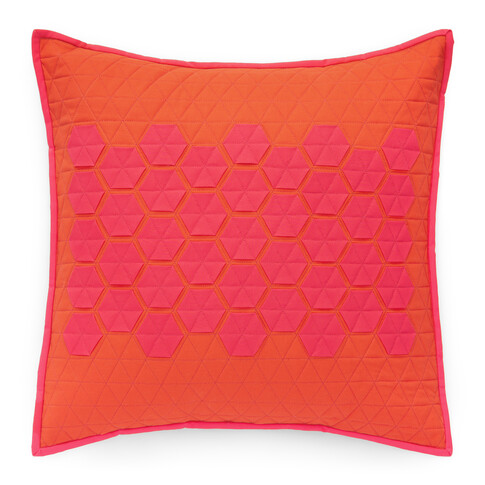 Modern Handcraft's Hexie pillow uses her faster version of traditional English paper piecing, but with a modern spin. And that low-contrast high saturation pairing of Crush hexies with the Chili orange background?! Gorgeous.

6. Knitted Star
By Lo and Behold Stitchery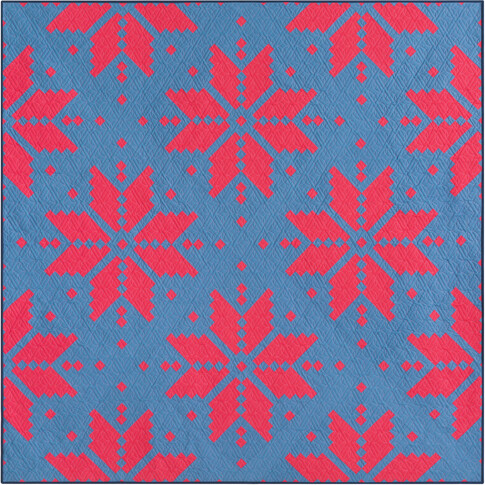 Knitted Star is a fat quarter friendly pattern from Lo and Behold Stitchery. Finishing at 62" x 62", the Knitted Star is inspired by Fairisle knitting techniques. The background is Kona Delft, a beautiful steely blue that really plays off the warmth of Crush.
7. Nova Star
By Then Came June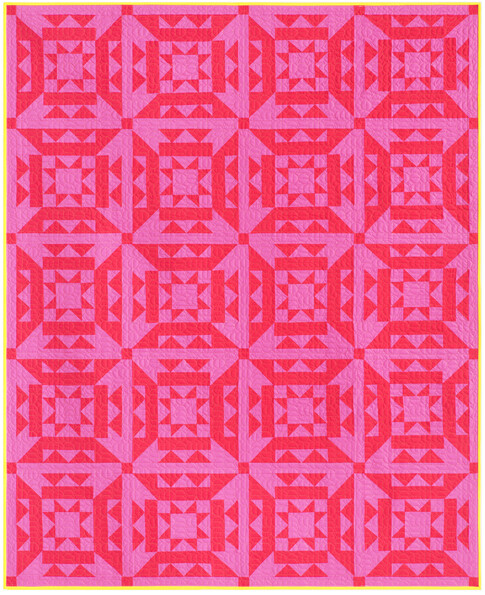 Who doesn't love a pink and red quilt? Then Came June used her popular Nova Star pattern to showcase Crush, but made it a modern and minimal version with just one other Kona fabric, the appropriately named Sassy Pink. Nova Star finishes at 54.75" x 78" but it's another one that's very easy to make bigger or smaller by changing the number of blocks.

8. Starshine
By Modernly Morgan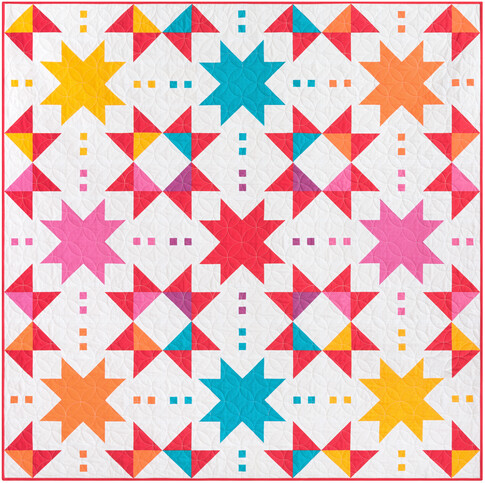 Starshine from Modernly Morgan showcases Crush in a completely different way! It's grouped with equally saturated fabrics in orange, pink, yellow, and turquoise. Starshine is a beginner friendly quilt and finishes at 66" x 66".

9. The Tomatoes Quilt
By Violet Craft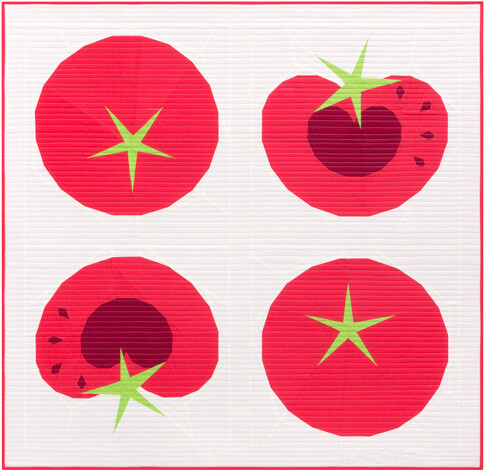 And if paper piecing is more your thing, take a look at this Tomato Quilt by Violet Craft. The quilt finishes 52" x 52" and would be such a fun quilt for a modern dining room or kitchen.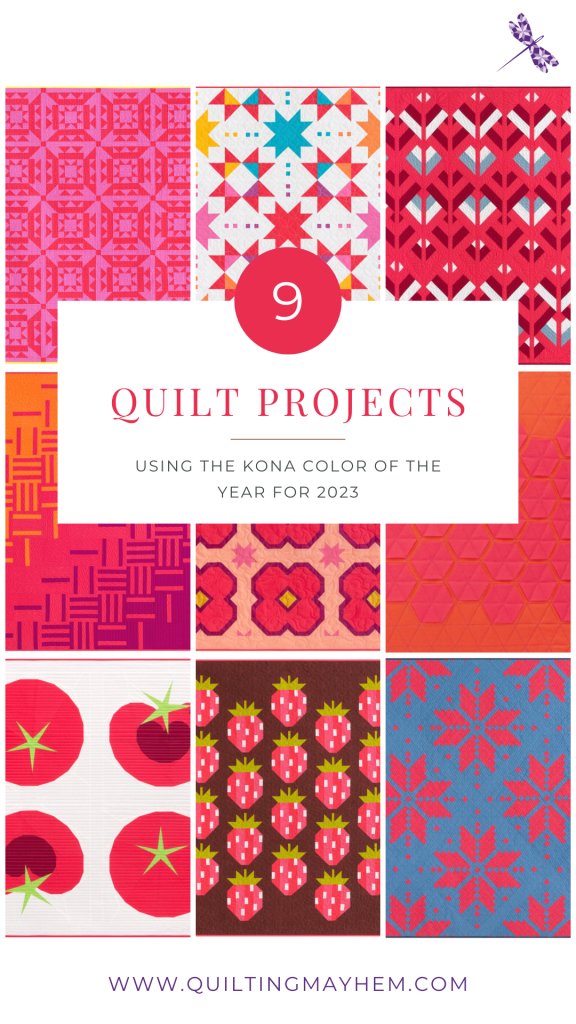 Are you feeling inspired? Join us for the Kona Color of the Year Challenge in 2023!