Why Shopping Small At Quilting Mayhem is a Big Deal for Quilting, Sewing, and Crafting Enthusiasts
We love to quilt, to sew, and to make things. Call it a cherished pastime, or an obsession depending on the day, but making mayhem is a have-to activity, our creative outlet, and an escape from the daily stresses of life. Since we think so much about what to make, you can bet we put thought into where we shop. While big box retailers may seem convenient, shopping small and supporting local businesses, such as Quilting Mayhem, is the way to go.
Supporting Your Local Small Businesses
Small businesses are the lifeblood of local economies. By choosing to shop at Quilting Mayhem, aka your favorite local quilt shop, you are directly supporting the livelihood of local entrepreneurs. Your purchase directly benefits the local economy by keeping money within the community and supporting local jobs, which in turn helps to build a vibrant and sustainable local economy. Shopping at Quilting Mayhem is a way to invest in your local community and support the growth of small businesses.
We Select the Best Products for You
Quilting Mayhem stands out from big box retailers with our carefully curated selection of products. Unlike mass-produced items found in big box stores, we do our research to find you the best sewing machines, patterns, tools, and fabric. When you shop at Quilting Mayhem, you can be sure that you are getting something special. 
Personalized Customer Service
At Quilting Mayhem, you are not a number to us; you are a Mayhem Maker and member of our quilting and crafting community. We know you and what you love. Whether you always want a phone call when the latest line of Tula hits our floor or whether you've bought a new bernette for your granddaughter or if you asked about a tutorial for the best way to baste your English Paper Piecing, we know and we remember. Our team at Quilting Mayhem are just as passionate about sewing and quilting as you are, and they're always ready to jump in with advice and ideas. Shopping at Quilting Mayhem is not just a transaction, but an experience that leaves you feeling welcomed, supported, and excited to start stitching.
Sense of Community
Quilting Mayhem is more than a store; it's a community hub. By shopping here, you are not only supporting the business financially, but you are also contributing to the sense of community and camaraderie among your fellow quilters. We host workshops, classes, bring in trunkshows and national teachers, have retreats and social events. All of these are places  where quilters can connect, share ideas, and learn from one another. Friendships are made at Mayhem! 
The benefits of shopping small at Quilting Mayhem go beyond just purchasing supplies for your next project. You can feel good knowing that your purchase is going back to build your community, whether in an economic or social sense, and whatever you purchase was an item that was carefully vetted for you before it hit the shelves. And if you ever have a question, our team of enthusiastic Mayhem Makers is there to answer it for you.
So, skip the big-box stores and come to Quilting Mayhem!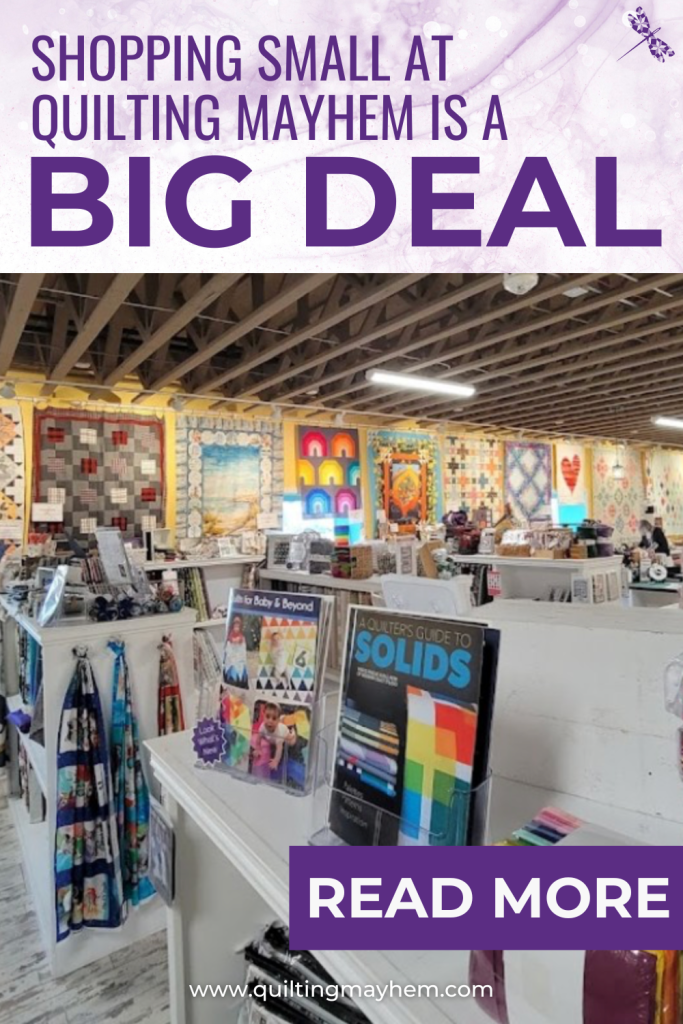 Don't forget to pin this post for later!