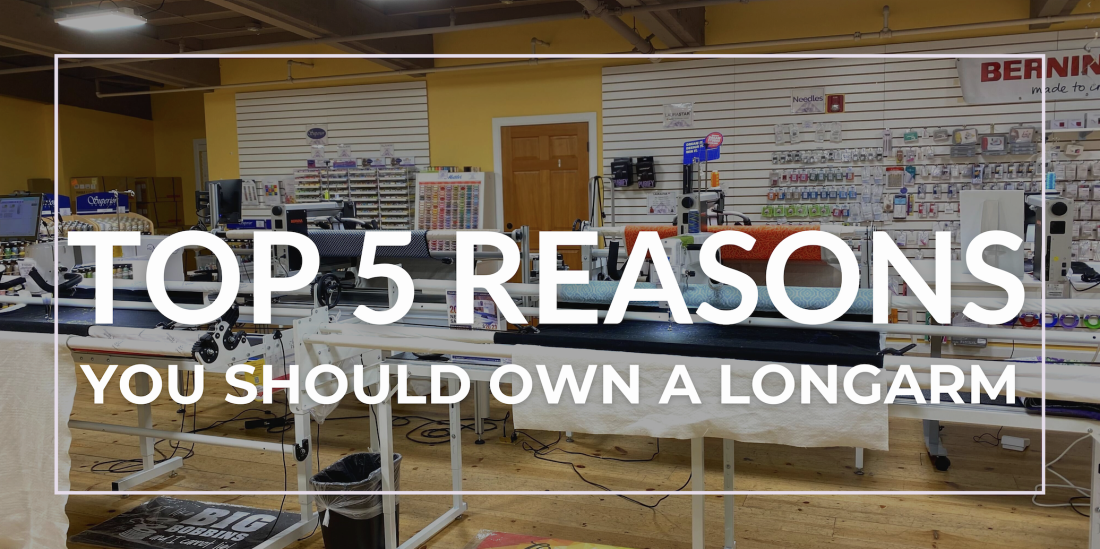 The Top 5 Reasons You Should Own A Longarm
There are some things we know for sure. We know that we definitely love fabric. Purple is obviously the best color for a logo. The quilt doesn't have to match the couch. And we're certain that you should own a longarm. Here's our top five, of many, reasons why.
1. A longarm gives you the opportunity to have complete artistic control.
You've worked hard to select the perfect fabric for the perfect pattern and then spent the time to make your beautiful quilt top, handing that off to someone else can be difficult. And once it's handed off, they have to execute your vision of how you want your quilt top to be quilted.
2. If you make a high volume of tops, you can really get your money's worth out of a longarm. 
Sending your quilts out to be quilted by someone else can quickly add up. When you get down to dollars and cents, how much money are you paying someone else that could be used elsewhere?
3. Quilting large and bed sized quilts is easier on a longarm.
Longarms get their name because of the increased throat space of the machine. A larger throat space means that you can fit more quilt underneath the needle. And the frame keeps the quilt level with no drag. No more having to support the parts of the quilt you're not quilting with wobbly tables and chairs around your domestic sewing machine!
4. Speaking of ease, say goodbye to tedious basting once you have a longarm and a frame.
Whether you baste with an adhesive spray, safety pins, or a big basting stitch, a longarm arm means that you can skip this step. Your aching knees and back will thank you!
5. The technological improvements in longarm over the past couple of years means that these aren't your mama's longarm.
Gone are the days when you would buy a longarm and it wouldn't even come with a stitch regulator, aka the technology that ensures your stitches are consistent and the same length. Even the most basic longarm machines have plenty of bells and whistles to play with. And the accessories! Light bars, rulers, thread colors, there are so many new and exciting tools to customize your longarm and your quilting.
Whether they're BERNINA or HandiQuilter, we love our longarms at Quilting Mayhem. With plenty of machines to try out in the shop, we're sure we can help you find your new favorite machine. Stop by Quilting Mayhem today to take them for a test drive!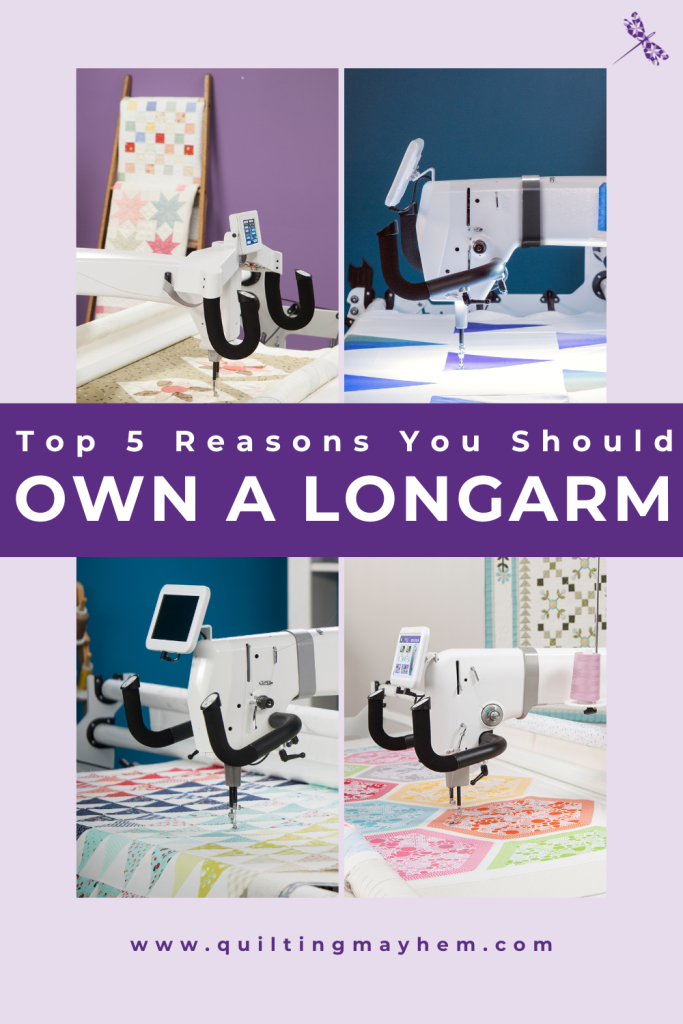 Don't forget to pin this post!